Pedestrian dies in accident with sanitation truck, Feb 23, 2014
Kingston and Carrol St. 9:25 AM, today.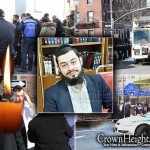 A tragic accident claimed the life of 25-year-old Gedalia Greenzayd in Crown Heights this morning. Originally from Ukraine, Gedalia was studying Smicha in Morristown, NJ. He was in Crown Heights to celebrate the wedding of a close friend. Levaya i...
http://www.dnainfo.com/new-york/20140223/crown-heights/25-year-old-struck-killed-by-nyc-sanitation-truck